Bicycle scavenger hunt for companies
Active outdoor team event with challenges
Would you like to get out into the nature and do some sport at the same time? Then plan your bike scavenger hunt now.
The bike scavenger hunt is an outdoor team event through nature with enjoyment and exciting challenges. Spend an extraordinary and active day with your colleagues and sustainably increase team motivation - with your scavenger hunt on the bike.

Solve exciting riddles in the scavenger hunt as a team
Your bikes are already waiting for you. Depending on your preference, you can ride city bikes or e-bikes. Which bike is best suited for the event also depends on the region and the altitude metres covered. For your bike scavenger hunt, you will be equipped with a map of the country, a treasure map and modern tablet PCs. You will need these, because together you have to find the way to the treasure.
Work together as a team and find out which colleague is the best map reader. The bicycle scavenger hunt is challenging. You pass various stations and solve exciting tasks. Here, calculators and tinkerers also get their chance to shine. From time to time, entire pieces of equipment have to be assembled to find the next important clue.
The fastest team wins the scavenger hunt
Test your knowledge and find out who the hidden treasure hunters are among your colleagues. You want even more excitement? Then compete against each other in a small challenge. Which team will find the treasure the fastest? The outdoor team event boosts motivation.
As a company outing, the bicycle scavenger hunt provides diversion and time to "take a deep breath". You get to know your colleagues from a new perspective. In a relaxed atmosphere, conversations are very different from those in the office.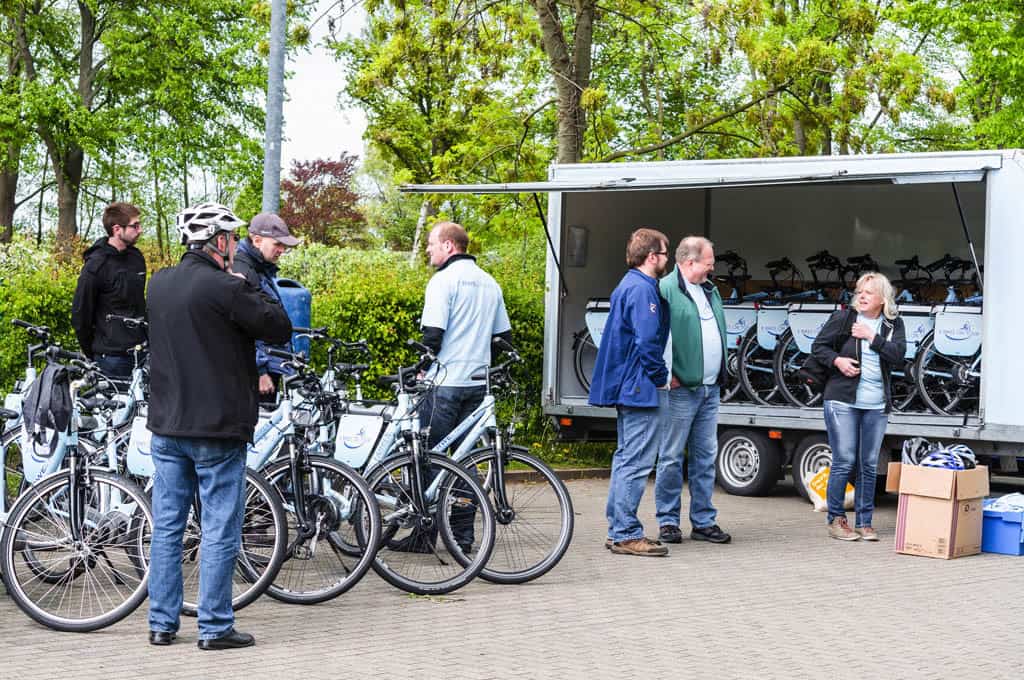 Optional: enjoyable finale with barbecue
Helmet on, jersey on - treasure map in your hand and the advernture could start. On this exciting bike scavenger hunt, you leave your everyday office life behind for a short time and immerse yourself in the nature. Whether in the Eifel, on the Rhine or in the Ruhr area. We adapt your outdoor team event to your wishes and your region.
Of course, we also take into consideration the athletic condition of your employees and colleagues while planning. The length of the route and the number of stations are variable. A balanced mix of relaxation and enthusiasm is guaranteed.
Optional: After recovering your treasure, we visit a rustic location with you or organise barbecue for you in the nature. You don't need to worry about anything else: the full service package includes the barbecue as well food, drinks, equipment and manpower. You can end your bike scavenger hunt in a relaxed, enjoyable and entertaining way.