Virtual barbecue and tasting in a team
The popular team event with 400 degrees heat is now also available online as a virtual barbecue event for your team. Book the online barbecue event "Virtual Barbecue Course" from b-ceed now and look forward to culinary summer moments with our profile barbecue master and lots of tasty treats.
Teambuilding classic now as an online barbecue event
Barbecuing as a team is almost obligatory for us in the summer, after all, our barbecue course is also mobile throughout Europe. We are living in special times now and it is all the nicer that the virtual world remains with us. We offer you a virtual barbecue course with a professional barbecue master. You book the course with us and choose between different barbecue menus. Of course, we also offer vegetarian and even vegan specialities for the online barbecue event.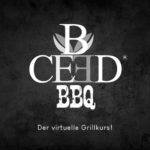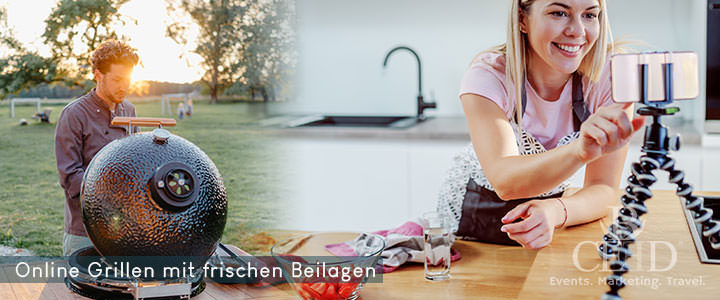 The barbecue utensils box home
The barbecue menu for your online barbecue event has been chosen, the date has been set and now your doorbell will soon be ringing. We will send the barbecue box to your home. In addition to useful barbecue utensils such as tongs and pit cloths, the box also contains a delicious mix of selected spices. It also comes with a recipe folder containing your shopping list. So you can buy everything for the virtual barbecue event with the team at the supermarket of your choice.
Tasting Grill Event virtual with your Grill Master
We welcome you with a live presentation directly from the b-ceed barbecue studio. Our grill master teaches you the art of grilling and also explains the advantages of grilled food. Last but not least, a barbecue event is a relatively low-fat endeavour, as it is well known that a barbecue does not need any oil or fat. In addition, there is the very relaxed atmosphere of our online barbecue event, where our barbecue master answers all your questions and hosts the event live.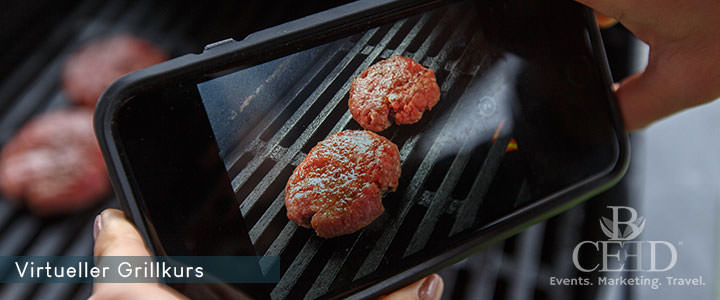 A must do for every barbecue fan at home
The virtual barbecue course with b-ceed offers corporate clients and private teams the ultimate opportunity to barbecue together without physical contact and at a distance and to learn a lot about the art of barbecuing. The carefully selected menus, the barbecue boxes and above all the live hosting by b-ceed ensure interesting, instructive and relaxed moments together in front of the camera. Whether in the garden, on the balcony or in the kitchen: the online barbecue event will heat you up.