Escape Play for Time
The indoor team building event with adrenaline
A room, many tables with large and small boxes and a screen on which a message is waiting for you and your team. "Today you are playing for time," says a message from the unknown person. But what exactly is the task and why is there a 60-minute countdown? If you like Escape Games, then you will hardly be able to hold yourself in suspense during the team building. During the Escape Team Event, the adrenaline rises - and in the end, all team members are winners. But only if they defeat the unknown in the game for time. Let yourself be drawn into a mysterious spell!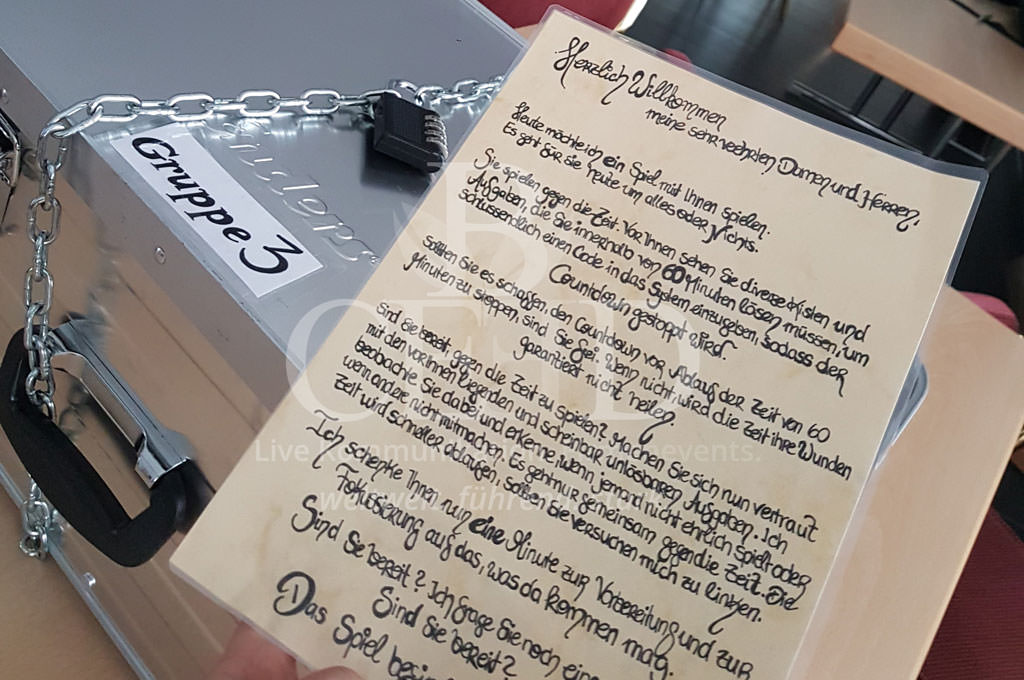 Solve puzzles across teams
The light shines dimmed and your team is randomly divided into several groups. All you see in front of you is a video message, a table with a box and a handwritten letter. But where do you start now? What do the markings in the letter mean and how can you open the locked box? The team escape game with the unknown is one of the most popular indoor team events. The participants have to solve difficult, sometimes almost unsolvable puzzles and complete unusual tasks together. And if you think only within your team, you're wrong: the timed game is a cross-team challenge. Which group will be the first to leave the Escape Room?

With strategy and puzzle fun to the goal
Together, they must manage to open the locked boxes and decipher the clues inside. The Escape Event is more than just indoor team building with thrills. It forges lasting bonds between employees and facilitates completely new thought and decision-making processes. The integration of new colleagues or the formation of work groups is easier and more playful with this motivational event.