The EM Highlight 2021
The team event for your company
Next year is the time. The European Football Championship 2021 is just around the corner. Get active at b-ceed's 'Absolut Fußball EM' company event in summer and win your own company championship with the best atmosphere and delicious drinks. With foosball, game consoles and XXL human foosball it will be action-packed. Sport, fun and culinary enjoyment meet at the in-house party. But the best is yet to come: Thanks to the company's own fan shop, nothing stands in the way of public viewing in the company's own premises. The match days for this year are fixed - so plan the European Football Championship for your company now.

Would you like to find out more about the Company Championship?
Call us on0800 20 66 900 . This is the quickest way to get detailed advice. In addition, we can immediately consider your special wishes in a personal conversation.
Football celebration with passion in your own company
Look forward to full service and an unforgettable European Football Championship with your company. We equip you technically with large screen TV or screen perfectly. The corresponding entertainment program, true to the motto 'Absolute Football', guarantees fun, excitement and adrenaline for your colleagues. And for all the hungry ones we serve bratwurst and currywurst with pieker, neck steaks or other specialities from the grill during half-time. Experience how your motto company party becomes your personal football EM summer fairy tale with an XXL people foosball tournament and goal wall shooting. With the "passion in the leg" it is called at the team event to sink as many balls as possible at the goal wall shooting.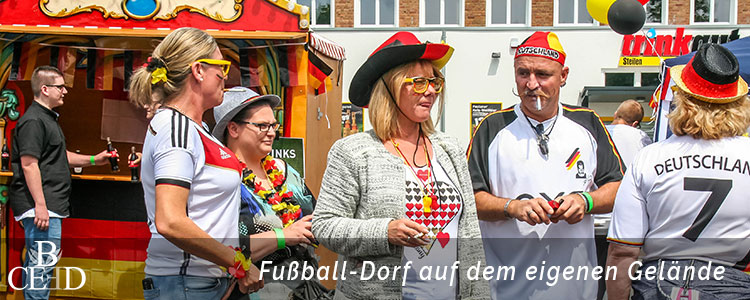 With passion and fun to the own company championship
Of course, your own European Football Championship with your colleagues can become a real summer fairy tale. After all, a real motto company event for the European Championship 2021 can only take place every four years. In order to celebrate the expected victory accordingly, we provide you optionally with a live DJ incl. sound and light technology, which really creates a party atmosphere.
On your company premises or in a location
Use the Absolute Football European Championship to really motivate your employees. With the company event you do everything right and hardly any topic is better suited. But not only for your own employees, but also as a customer event, the football championship is perfect. Celebrate with customers, colleagues and partners in the summer and create your own company summer fairy tale.