Convivial company celebration in the best breweries
Beer tasting, delicious food and good mood in the brewery house
A brewery evening is always something fine, especially at your next company party. You know big and small breweries, they are spread over many German cities and are a magnet for young and old. A brewery evening in Cologne combines Cologne cheerfulness with traditional cuisine and good top-fermented Kölsch from the barrel. Watch the hustle and bustle of the crowds in the Gaffel am Dom or be a little more "private" and sociable in smaller breweries: We know the insider tips of brewery culture in Cologne. During a real beer tasting you can taste different beer specialities in the glass in private breweries we trust.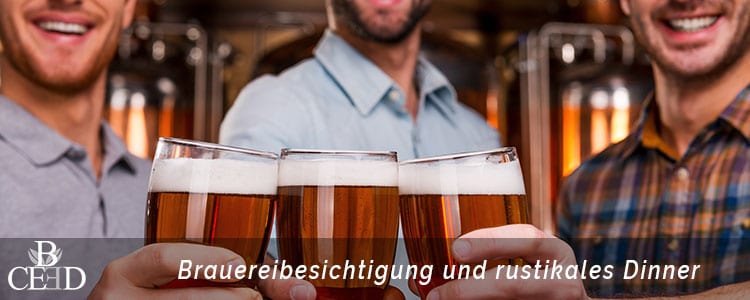 Would you like to find out more about the Brauhaus Abend?
Call us on 0800 20 66 900. This is the quickest way to get detailed advice. In addition, we can immediately consider your special wishes in a personal conversation.
Experience brewery culture in Cologne, Düsseldorf and other cities
Enjoy delicious freshly tapped beer, a convivial atmosphere and authentic brewery feeling also in Düsseldorf, Essen, Aachen or in other German cities. The partner network of b-ceed includes selected locations and breweries. Benefit from special conditions, which have been agreed between b-ceed and the brewery partners and look forward to a company celebration in the brewery deluxe.

Hearty company celebration in the brewery
Brauhaus Deluxe combines a company party and a social evening in one. Depending on the size of the group, niches, benches or entire rooms are reserved for you and your guests and lovingly prepared in a rustic style. Whether you choose plated dishes, buffets or multi-course menus is entirely up to you. The glasses are always freshly filled and the food is in brewery flair - homemade, of course.
Great atmosphere with live entertainment and brewery games
On request we plan your brewery competition and several funny and partly bizarre games. For example, in the hop run, one can see but not move and the other is blind but mobile. The hops have to go into the glass, but the way is long. Other games require more dexterity. All in all, the games demand one thing above all: a desire to have fun, and you'll have plenty of that in Brauhaus Abend Deluxe. In addition, there are optional music interludes by DJ or live band - depending on the wishes and budget of the customer, so that a sociable Brauhaus Abend Deluxe becomes an even more significant company celebration.