City trip Hamburg
Experience the Nordic Hanseatic city with all its facets
Look forward to a city trip that will bring you closer to Hamburg and all its Nordic facets. Your luxurious city hotel in the centre of the city welcomes you for the coming nights. In addition to state-of-the-art facilities and all the comforts, its beautiful location and variety of leisure options make it the perfect base for your trip to Hamburg. Let yourself be enchanted in the cool north of Germany.
City trip Hamburg: Round trip at or on the water
Experience the Hanseatic city of Hamburg with all its facets and let yourself be carried away by the turbulent city life on the Elbe. On a city and harbour tour you will learn stories about the city and get to know the most beautiful corners. Explore the city on foot and stop off at the Miniature Wonderland or the Dialogue in the Dark. You will get the best coffee and cake in the coffee roasting house, in the listed Speicherstadt. Pure nostalgia.
Would you like to learn more about the city trip Hamburg?
Call us on 0800 20 66 900. This is the quickest way to get detailed advice. In addition, we can immediately consider your special wishes in a personal conversation.
Discover Tablet Adventure and Zoo Hagenbeck
If you like it a bit more active, grab your tablet PC and explore the city in your own way: Exciting storylines and fun tasks will turn your team into true experts of the North. The tour also takes you to the legendary Hagenbeck Zoo Park. Once there, you will first be given refreshments in the form of snacks and drinks. Together we will discover numerous animal species that are not yet so well known. This is of course part of the Adventure Tour through Hamburg and makes any other city rally look pale. A true highlight during your city trip Hamburg.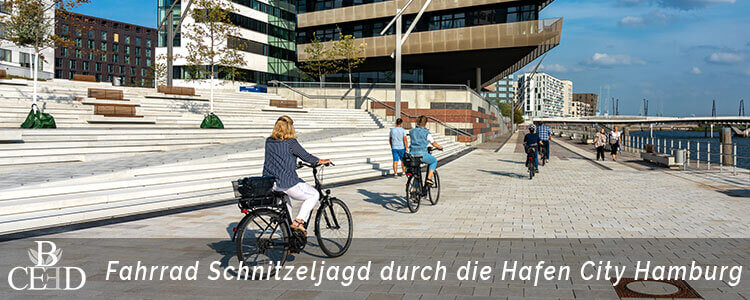 Musical evening and Skyline Dinner at the Elbe river
The Port of Hamburg is a must for every visit to Hamburg. There is a lot to experience on the tour to the most modern terminal worldwide in Altenwerder. With romantic or modern launches you will experience Speicherstadt flair and ocean liners. Hamburg also has a lot to offer in the way of culinary delights. Try the best fish in town in the Portuguese quarter or try out one of the many cafés on Jungfernstieg. There is something for every taste.
The highlight of your city trip Hamburg is a visit to one of the musicals. Experience "The Miracle of Bern" or "The Lion King" live and with the best view of the best musical actors in the world. With a dinner in the "Skyline" restaurant, with a view of the Landungsbrücken, this evening and your city trip to Hamburg will be an unforgettable experience.