Company trip to Krakow
Experience tradition and culture during the trip to Krakow
Krakow: A city full of myths, legends and dreams. Discover Krakow, the old royal city, in all its glory. A walk through the enchanting Main Market Square is a must to find out how communism shaped this city. Even today, this historic city thrives on its legends. Experience an incentive trip full of tradition, culture and culinary highlights. You will spend your nights in a 4 star hotel in the centre of the historic old town. Try the famous Polish "pierogi" (stuffed dumplings) as a midday snack at Krakow's Main Market Square, right after your check-in. From there you will start your magical Krakow journey through the partly hidden and historic places of the medieval city.

From the playing of the trumpet to the dragon's lair
With your own ears you can listen to the trumpet melody from the highest tower of St. Mary's Church, which then suddenly breaks off at one point. For centuries, the church has been drawing attention to itself through this curious game. Learn more about the legend behind it. History, Krakow has plenty of it. Almost all the tenements and palaces around the Market Square are buildings hundreds of years old. Walk up Wawel Hill with the imposing Royal Castle, considered one of the most magnificent Renaissance residences in Europe.

Digital scavenger hunt through Krakow
We'll take you on a digital scavenger hunt to the royal tombs and the giant Sigismund Bell, which only rings out on the occasion of the most important events for the country and its people, on your corporate trip to Krakow. At the end, visit the Wawel Dragon, which, according to Polish folk legend, has lived there since the city was founded. The spiral staircase will lead you down into his dragon's lair. Those who successfully complete this scavenger hunt using the Globe Chaser app will receive an amber drink as a reward for their perseverance. Afterwards, we invite you to dinner at a stylish local brewery. The evening program includes beer tasting and of course typical Polish dishes.
Would you like to know more about the company trip to Krakow?
Call us on 0800 20 66 900. This is the quickest way to get detailed advice. In addition, we can immediately take into account your special wishes in a personal conversation.
Mining expedition in the "Wieliczka" salt mine
One of the oldest salt mines in the world, the Wieliczka Salt Mine is a UNESCO World Heritage Site and one of Poland's biggest attractions. At the end of your corporate trip to Krakow, discover underground salt lakes, unique salt sculptures and magnificent room constructions. In addition, taste how food tastes at a depth of 125 meters below ground.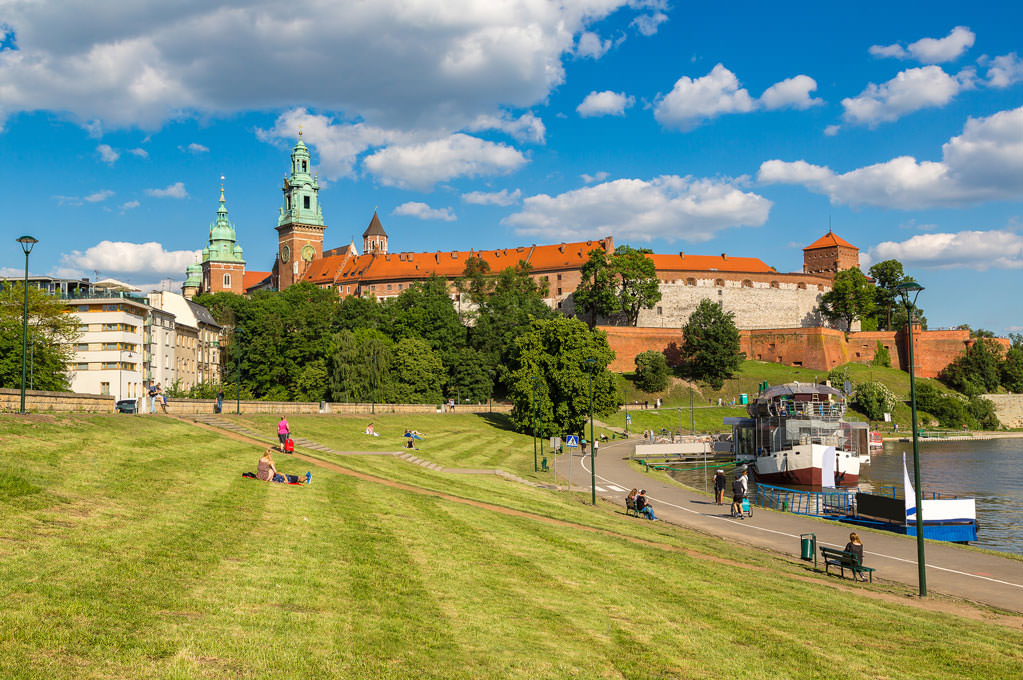 A journey through time that you experience with all your senses
Embark on an incredible adventure on your corporate trip to Krakow, which will allow you to immerse yourself in communist style. Our local tour guide will greet you by opening the door of his Trabant for you and take you on an incentive trip through time and space. A time when only vinegar was on the shelves of the shops and period furniture adorned the premises. Afterwards, tasty communist-style dishes are served at the Milk Bar. From communism, travel back another 300 years as you tour the Jewish quarter called Kazimierz. "Kazimierz" convinces with wonderful little alleys, very charming courtyards, as well as unique artists' pubs that are filled with life, especially during the evening hours. In the evening you can dive even deeper into the Jewish culture. We invite you to a Klezmer concert while you enjoy your meal in a typical Jewish restaurant.