Mobile Christmas market on your company premises
Individual Christmas party for customers and employees
Without a doubt, this type of Christmas party is one of the most extraordinary: A mobile Christmas market is a highlight for customers and employer branding at the highest level. Look forward to a completely new kind of Christmas party, which can already start at noon with fresh, homemade mulled wine and punch, paired with crêpes and waffles. Highlights are provided until the evening hours and maybe even Santa Claus will come by.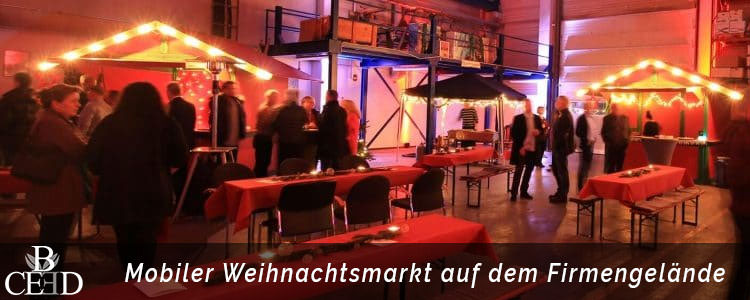 Your personal mobile Christmas market
 ... Stall magic and winter dream flair
In addition to various booths with fresh food such as mushroom pan, swivel grill pavilion, fire grills and nostalgic crêpes car, the dream of your own Nordmann conservation will also come true: We bring high-quality Nordmann firs to "cut" yourself. Your guests walk through the densely built up coniferous forest and pick out the most beautiful trees. Netting and loading are also included and will be done by our crew. Perfect as a customer event with high-quality presents or as a great thank you to your employees.
Would you like to know more about the mobile Christmas market?
Call us on 0800 20 66 900. This is the quickest way to get detailed advice. In addition, we can immediately consider your special wishes in a personal conversation.
For playful people: a pad to (re)throw around
So that it does not become boring, we also provide for mood beside the music, the culinary highlights and the whole, Christmas atmosphere: a mobile Christmas market on your company premises will be charged with excitement with a real throwing booth. Whether cans or balloons is up to you. Your employees or customers can show how good their coordination is at the throwing booth and win prizes if desired.

Santa Claus comes to you
... a highlight for children and adults
Optionally, Santa Claus makes sure that every guest goes home with a present at the end of the day. What would a mobile Christmas market be without Santa Claus? Santa Claus is part of the mobile Christmas market and delights children and adults alike. He brings little treats, such as chocolate and biscuits, for the kids. For the adults he has warming sayings and a schnapps ready. And who knows: some guests might even find the golden coins Rudolph lost on his way.