The tour of the Christmas market
Outdoor team event in winter nationwide
Are you ready for the big Christmas market tour in your city? Whether you are planning your Christmas party in Cologne, Aachen, Düsseldorf, Bonn, Frankfurt, Essen or in another city, we know them all nationwide: The Christmas markets of the big metropolises are no longer limited to just one place. There are hidden markets with medieval or even modern flair, far away from any tourist hustle and bustle with unique ambience.

Christmas market tour from stall to stall
Experience the history of the city of your choice. Together with our passionate city guide you will get to know a special landmark of your desired destination. For example, would you like to discover the secrets of Cologne Cathedral and then start the tour directly at Roncalliplatz? Or have you always wondered why the Aachen Christmas market used to be called "Printenmarkt" and what the Elisenbrunnen has to do with it? We combine the sights with local and regional delicacies for you. Enjoy the various specialities of the region bit by bit during the Christmas market tour.
Want to know more about the Christmas Market Tour?
Call us on 0800 20 66 900. This is the quickest way to get detailed advice. In addition, we can immediately consider your special wishes in a personal conversation.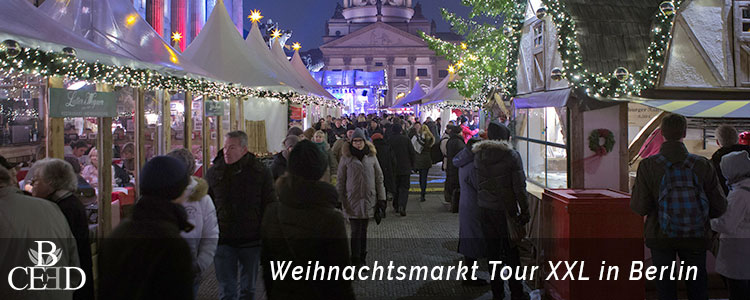 Or tour from Christmas market to Christmas market
Enriched by the historical background of the city of your choice, the Christmas market tour takes you from Christmas market to Christmas market. You will enjoy homemade specialties such as mulled beer, salmon from the fire board or stuffed mushroom heads at selected stalls and stands. Our city guide will initiate you into the origins of the food and drink and bring you a little closer to the city's traditions. Whether Printen, Rievkoche, Germknödel or Franzbrötchen - full of impressions and food, you will experience a wintry journey through time in a peaceful atmosphere during your Christmas party.
Optional conclusion with Christmas dinner
Filled with the delicacies of the various Christmas markets and the enjoyment of historical backgrounds, we are happy to plan an optional dinner for you after the tour. In a brewery or a trendy restaurant you can end the evening comfortably with your colleagues.