Christmas party and mobile casino
Gambling like in Las Vegas
"Rien ne va plus!" At your mobile casino , the motto is: all or nothing. At this unique "royal" Christmas party you win everything, not only the hearts of your employees. Enjoy breathtaking moments and feel like in Las Vegas or Atlantic City. With the authentic flair of the great casinos, no poker wish remains unfulfilled. Make yourself comfortable and let yourself be enchanted by real croupiers, riddle girls and the charm of "gambling" at the mobile casino.
Mobile casino in your company
Welcome to your fabulous casino! Get ready for an unforgettable Christmas party with a gambler's atmosphere without losing a single euro. Mobile on your company premises or in one of our partner locations nationwide. Feel a touch of Las Vegas and let yourself be carried away into an ambience of the extra class. At the grandiose Martini reception in royal style, you will inspire your employees.
Alternatively, start the evening with a wintry mulled wine reception. Enjoy your very own Christmas party with this fascinating mix of relaxation and gambler's spirit.
Want to know more about this Christmas party?
Call us on 0800 20 66 900 . This is the quickest way to get detailed advice. In addition, we can immediately consider your special wishes in a personal conversation.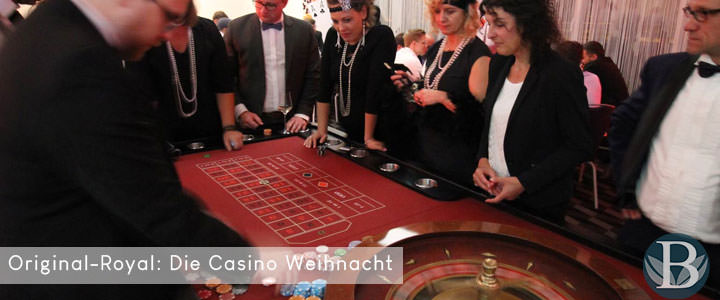 Poker and roulette in the mobile casino
Your mobile casino can be used flexibly. Whether roulette, blackjack, poker or craps. With a diverse selection of exciting games, no gaming wish remains unfulfilled. Equipped with high-quality equipment and an excellent promise of quality, your Christmas party becomes your Casino Royale.
At the high-quality gaming tables (standing or seated) with real accessories, you place chips and challenge luck. Real croupiers shuffle your cards, turning the gaming tables into a mecca for the gamblers among your staff. And don't worry: if you've gambled away your last chip, the Riddle Girls will be happy to help out with their belly shops and hat games. Feel like James Bond in a superlative gaming room atmosphere.
Optional: Christmas gala buffet
Upgrade your exclusive casino with a Christmas gala buffet. Your Christmas party should be an unforgettable experience. We present you a high-quality buffet with wintery international specialities, game and vegetarian delicacies. You will receive a non-binding offer with a buffet proposal that can be adapted to your wishes and the preferences of your employees.