Winter barbecue mobile
Christmas party outdoor and on your company premises
Culinary delights at 400 degrees heat can not only be achieved at a professional barbecue workshop, but also at the mobile winter barbecue. At this really extraordinary Christmas party, the grills, the barbecue food and the drinks come directly to you - optionally with a large, own Christmas market on the company premises. How does that sound?

Outdoor Christmas party individual with barbecue
No matter if your company is located in the middle of the city or in the snow. We come to you and set up everything you need for such a winter barbecue including sound and light: Guides from b-ceed will of course be there to guarantee smooth proceedings. So why not plan something completely different than usual and book an extraordinary Christmas party with b-ceed? On request, warming infrared heaters, blankets, mulled wine and more are also available. This Christmas party is as individual as its guests and the services can be put together freely.
Want to know more about winter barbecue?
Call us on 0800 20 66 900. This is the quickest way to get detailed advice. In addition, we can immediately consider your special wishes in a personal conversation.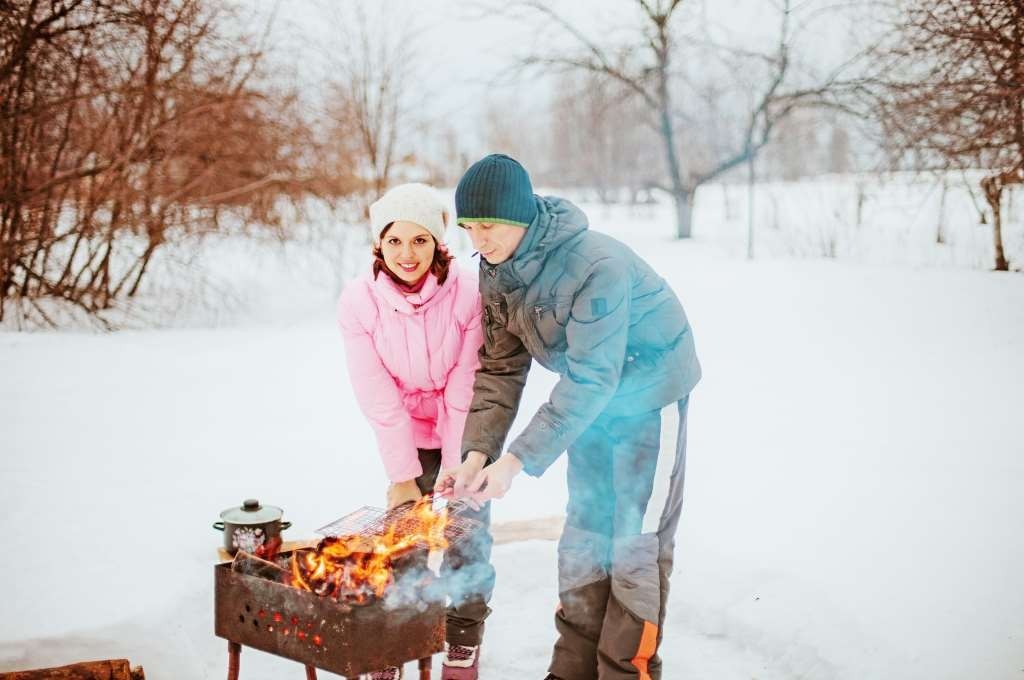 Winter barbecue deluxe: snow, steaks and mulled wine
Look forward to tasty, high-quality steaks, sausages, grilled potatoes and feta sacks at the winter barbecue. You can grill (almost) anything and the whole thing is completely fat-free. Enjoy the meat, fish or king prawns with home-made marinades and fresh herbs. Fresh oven bread or the dessert, which is heated on the grill beforehand, perfectly round off the varied offer. For every taste, also for vegans or vegetarians, we can offer delicacies from the grill.
Optional upgrades, team modules or Christmas market
Winter bar becue is the perfect setting around your hot and cold Christmas party. Get your personal branded professional barbecue apron and look forward to fancy recipes for your barbecue event. Optionally, we set up your own Christmas market on the company grounds with white and brown and Nordic-style huts, creating an extraordinary atmosphere. And after the meal, your guests don't have to go home right away. Celebrate until late in the evening and enjoy your winter barbecue event together with your colleagues.