The quiz show in your company
As a company outing or team event for a conference.
Who will be the next Quiz Master in your company? Now it's up or top for your team. Buzzing, brainstorming and a great atmosphere. The Mobile Quiz Show is THE highlight for companies and teams looking for a turbulent fun. From complex to seemingly unsolvable questions, puzzles and joke questions, it's all there. Motivate your employees to perform at their best and book your mobile quiz show as a team-building company outing in a class of its own.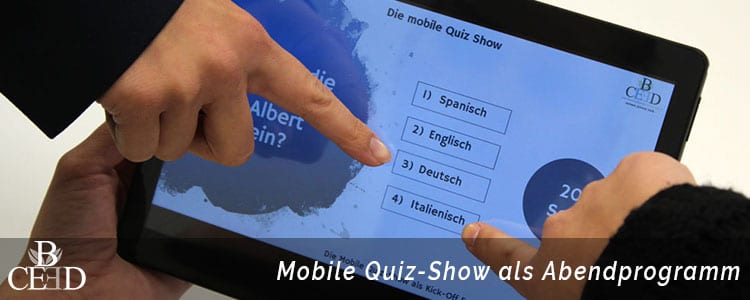 Your office as a quiz show studio
Quiz shows have a long television history and offer a great fun factor. Look forward to a company outing that can be experienced almost anywhere. We transform your office or conference location into a quiz studio. With selected questions about your company, your environment or very special topics, you can prove your skills and knowledge in teams. The Mobile Quiz Show gives your company outing that certain something!
Teamwork is required for the mobile quiz show
You compete in the team for 1st place by demonstrating your knowledge and strengths in the individual subject areas. You know the city where the company is placed pretty well? Then you are responsible for the local knowledge questions.
We assure you that there is a suitable assignment for every single employee from your company. From car questions to sports topics to the sciences of the 21st century - we know the answers to almost 30,000 knowledge questions. From time to time, little joke questions are included - so pay close attention and press the buzzer at the right moment.

Would you like to learn more about this team event?
Call us on 0800 20 66 900. This is the quickest way to get detailed advice. In addition, we can immediately take your special wishes into account in a personal conversation.
Different versions for many subject areas
In addition to the typical quiz show, with questions on general knowledge and small mini-games, we also create company or job-related topics on request. The guessing game thus becomes a tailor-made company quiz. We are also happy to stage the team event under a specific motto: for example, it could be a Christmas themes if you are planning a quiz show with Santa Claus or a virtual quiz show.
Our tip: A quiz for the senses
A very popular variation of our quiz show is called "the quiz of the senses". In this quiz, you hear sounds or melodies, explore different smells and taste unusual specialities. Feel interesting objects and watch a video or a photo where seemingly nothing is visible. How well can you think and act abstractly?
Finding out the answers together will fascinate you. And strengthen the community in the team.