Wild West adventure ride in the Eifel
Greenhorn ride over the Eifel heights
A trail ride through the Eifel has probably never been planned as a company outing. With b-ceed this idea becomes a reality. Combine absolute outdoor fun with the necessary motivation and discover the Eifel on foot and on horseback.
Whether you are riding for the first time or are already a professional, it doesn't matter. The experienced riding guides make riding an experience for everyone. Of course, participants can also hike through the Eifel without a horse. Experience a true adventure in the Eifel while hiking or riding.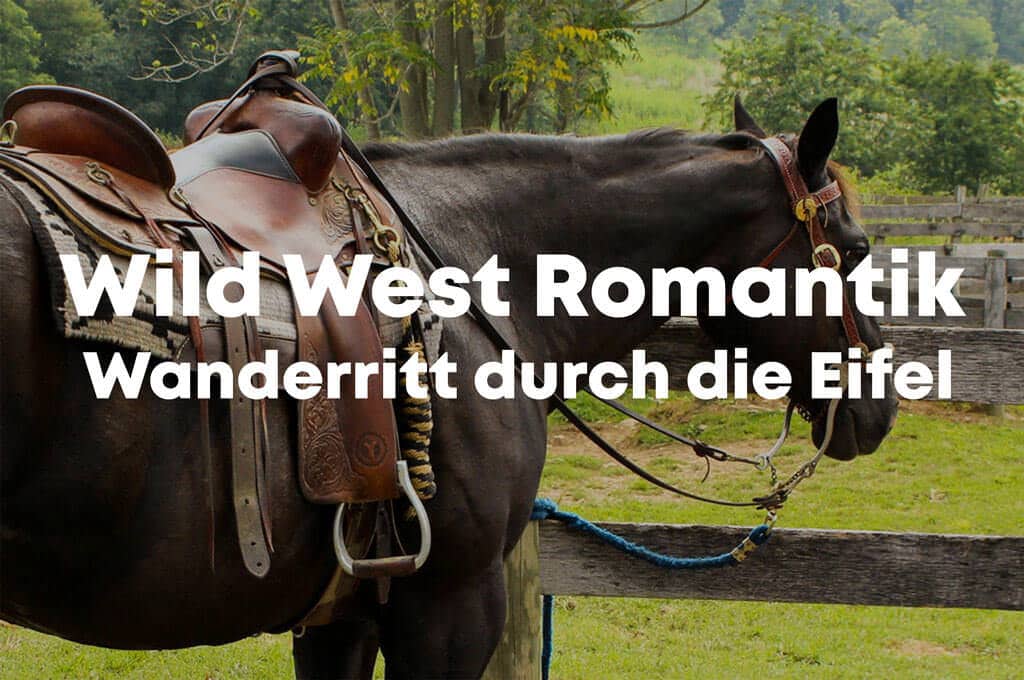 Hiking and riding across the Eifel
The greatest happiness on earth is sitting in the saddle of a horse, so they say. Explore the Eifel while hiking with our rangers or riding with our Wild West riding guides. Experience not only this happiness, but also true emotions, as well as the feeling of lightness during your company outing. Every great conquest was made by horse until 100 years ago. Feel transported back to this Wild West time during your ride or hike through the forests and meadows of the Eifel. All the way to North America in one day. Without having to travel far for it.
Want to find out more about Wild West Adventure Riding?
Call us on 0800 20 66 900. This is the quickest way to get detailed advice. In addition, we can immediately consider your special wishes in a personal conversation.
Riding and experiences. Nature and relaxation.
After a short briefing, you will set off on your adventure trail on professionally trained horses. The appropriate equipment is of course available for this company outing. While riding across the Eifel, you will perceive the passing nature in a completely different way. The non-riders will also go on an exciting hike through the nature or will be chauffeured comfortably through the nature on a carriage or covered wagon ride. Then you all meet again at a cosy Western BBQ. Exchange ideas and tell each other about the numerous highlights.

A trail ride with Wild West Event
You want to end the day in the style of the wild west? Then build your company outing the right way and make sure that your event is a trip to the wild west. As soon as the horses have been unsaddled and the hiking boots swapped for normal shoes, we will be waiting for you at the BBQ with a cool drink. Listen to the stories of the ride leaders and end the day around the campfire. A Wild West experience of a completely different kind!
Lasso, Square Dance and Bow Shooting
Haven't had enough? Then test your skills in the evening at the Cowboy Competition. You can test each other in roping and archery. Alternatively, you can dance true to the original at the square or line dance course. A common choreography included. All of course with authentic country music.