Now that we've put two years of Corona Pandemic behind us, we're back with outdoor teambuilding events in 2022. Today we present three exciting outdoor teambuilding events for 2022 that will motivate you and the employees of small and large companies.
What is teambuilding actually?
Team building is the process of developing a team. This is done by working together on tasks and goals that are important to the team. The aim is to improve communication, cooperation and productivity.
A successful teambuilding event not only brings a team closer together, but can also motivate employees and increase their identification with their company.
Team event 1: Off-road adventure event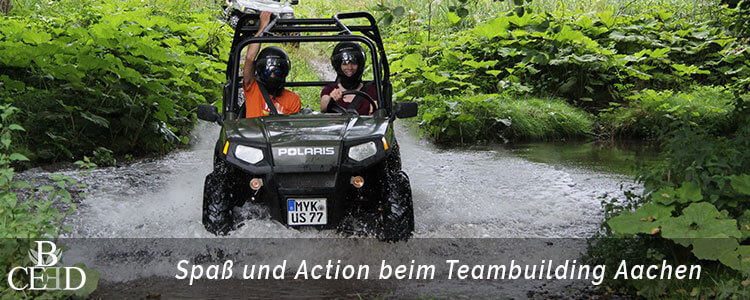 If you want to get off the beaten track, you need the right equipment. And that's exactly what our off-road rally tour offers. In pairs, you'll conquer forest trails and dirt roads on powerful all-terrain vehicles (ATVs). This is the perfect opportunity for team members to get to know each other better in an exciting outdoor environment. Add to this team-building tasks such as building a real raft out of logs and wood, and you'll have an unforgettable team event where everyone will have a sense of achievement.
Team event 2: Team day on the farm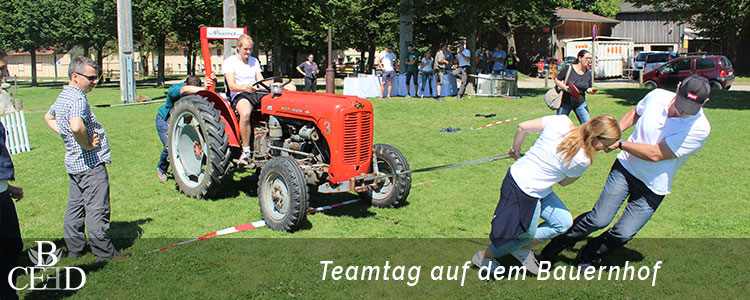 A team day on the farm is just the right teambuilding event, especially if you want to combine physical activity with a fun outing. The farm event in the countryside combines fun and motivation in equal measure. At the Farm Olympics, for example, you will compete in teams against and with each other. Disciplines such as rolling hay bales, milking the wooden cow or estimating corn kernels will test your strength and endurance - while wheelbarrow races are guaranteed to make you laugh.
Team event 3: The scavenger hunt on foot or by bike

Scavenger hunt experiences are not just for children. They are also suitable for adults, especially when combined with a physical activity. The app-based scavenger hunt is perfect for your teams for this. You can either do them on foot or a rally by bike. It's a fun way to explore your city and learn more about it at the same time. Similarly, your teams will be equally challenged and encouraged with physical and digital tasks. Our in-house scavenger hunt app guarantees exciting and activating outdoor company outings and in-depth team building worldwide.
Conclusion
Outdoor teambuilding events are again on everyone's lips in 2022 and you should also decide promptly for an exciting event. As an event agency and expert for teambuilding, we have just the right outdoor team events and company outings ready. It doesn't matter if you are a small team or a big company. Our agency is specialized in exactly one thing: motivating and forming your team.