Events on the topic of cooking
Three ideas for your mobile cooking event with the team
Cooking events inspire every team. Mobile cooking events offer an enormous advantage for companies - no travel and can be carried out exclusively at your location. Every team has held the classic cooking course or barbecue workshop at least once. Of course there are variations, such as a sushi course or an Indian cooking course. But in the end it always comes down to the same thing. b-ceed has revolutionized these classics with three events. What options are there besides the classics of cooking schools? We present three mobile cooking events on your company premises. By enjoying the food together and cooking in a team, fun and joy are guaranteed.
The sweet cooking event: mobile pâtisserie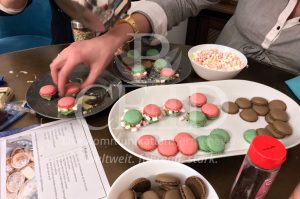 Try your hand at this mobile cooking event with pâtisserie character. Bake together and get creative. Delicious recipes await you, which you can of course modify according to your taste. Your employees will bake, decorate and taste the finest treats together. Feast on the most delicious desserts like macarons and cake pops. But think carefully about how you divide your team in this sweet mobile cooking event "Team au Chocolat". Some prefer to bake and others love to decorate. Use the strengths and preferences of your employees and create a variety of sweet sins together. This baking course is possible anywhere, even without a stove or oven.
Mobile cooking event for the summer: barbecue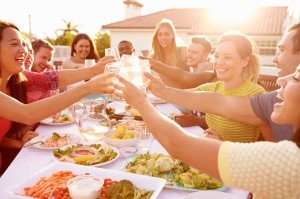 Enjoy culinary delights at over 400 degrees heat. This mobile cooking event is a must-have for all barbecue lovers. You enjoy a cosy, mobile barbecue evening with your employees and also strengthen your team spirit. Best barbecue equipment, finest ingredients and professional equipment are available and just waiting to be used by you. Cool drinks and beverages round off the cooking event perfectly. Whether outdoors or in your company, the mobile barbecue is possible everywhere.
Cooking event with food coaching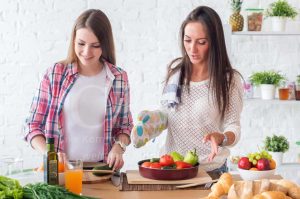 This cooking event "b-fresh and get together" helps you to make your everyday office life healthier and motivates your employees at the same time. Within a few hours you will receive professional tips for a conscious eating style. Our nutrition and fitness coaches will also give you valuable ideas on how to improve your posture in everyday office life and how to take care of yourself in stressful situations. The healthy cooking event brings you closer together as a team and offers a holistic healthy experience for you and your colleagues. A wide variety of dishes can be prepared without a stove and can therefore be done anywhere. Only a room, a little space is required. The best place is directly in your company kitchen.
Team cooking with pleasure and fun
Look forward to cosy, creative and communicative hours together with your employees. Mix, cook, bake and laugh together with your colleagues. All mobile cooking events unite the common interaction and togetherness and thus strengthen the team cohesion. Book one of our new "classics" for the summer today and get re-inspired. You are not the "cooking type", but still want to hold your event on your company premises? No problem.