Event location and seminar room.
b-ceed: location! in Euskirchen
The time has come: discover the event locations of b-ceed. A dream has come true for us. In addition to our own seminar room "Q", the large event location "DRIVE" is also available for individual company events. In the old paddock your event will be perfect. Book both locations as a company or private person for your event.
Seminar room for "Q "uerdenker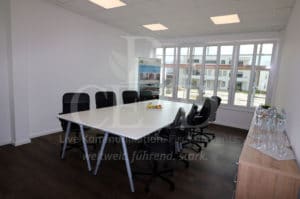 Modern. Bright. Fully equipped. These are the advantages of the new seminar room "Q" by b-ceed. Sufficient space for up to 20 people and a view of the greenery are further advantages for a meeting in Euskirchen. No matter if creative training, seminars, workshops or other occasions, use the room according to your ideas. The modern ambience is completed by the 75 inch High Tech Multi Touch BigPad. Leave your beamer at home and look forward to an absolutely interactive presentation experience. Full catering for your guests can of course be booked in addition. Fit & Vital is the motto here. Fresh fruit, regional products and delicious lemonades from the farmer next door. Would you like a little more? Then use the terrace directly for a small barbecue buffet. You would like to rent the seminar room in Euskirchen? Then give us a call or send us an email.
Seminar and event in one
And the best comes at the end: use the great event offer of b-ceed. Try to get through the labyrinth in the entrance area during your coffee break. Maybe after the lunch break "Q" doesn't look like it did before, but is equipped with elements of the team event Panic Room. The b-ceed team is right next door and can support you directly with suitable event modules for your event in the seminar room "Q".
Company events and presentations in "DRIVE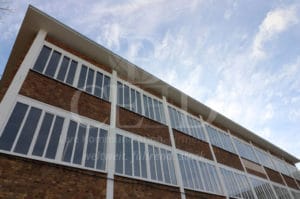 From June 2018, the new event location "DRIVE" in Euskirchen will be available for selected customers. Your company event, automotive event or in-house exhibition will take place here in an extraordinary environment. On 600sqm we design your event with full service. Present new products and innovations to your customers in an exclusive setting. Thanks to an ultra-modern glass elevator, packages, exhibition stands and vehicles are transported into the event location without any problems. The products can thus be skilfully staged with lighting elements even during transport. Receptions with cool drinks, flying finger food or whole buffets find their place in the new location DRIVE and simply make more out of your event. DRIVE as a location has convinced you and you would like to rent the event location in Euskirchen? We are looking forward to your call.
Celebrate between classic cars
Converting the old leather factory into an old paddock might seem a bit strange at first glance. But the structural conditions and possibilities offered themselves. If the event location "DRIVE" is not used for an event, there are old vintage car treasures. If you wish, these can also remain there during your event. A special atmosphere in the modern location. Maybe there is one or the other classic car lover among you? For IT or fashion presentations, the classic cars form a unique backdrop. For automotive events, the classic cars are driven out of the location on request, of course, so that your product is the focus.
Closing words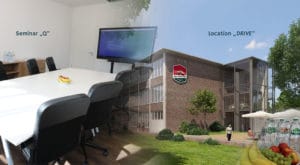 In both event locations of b-ceed we realize strong and extraordinary event concepts for you. Whether in the context of a meeting or for the product presentation of the year is the same. You will receive perfect event planning, 100% support and high-end technology. We are looking forward to meeting you. Come by and have a look at the locations. Call us now at +49 (0) 2251 929 330-0 or contact us by Email.
[avatar user="Rebecca" size="thumbnail" align="left" link="https://b-ceed.de/"]by Rebecca Lenz. Full Service & Design [/avatar]