How can you plan your 2016 Christmas party within the tax-free limit and still have fun?
Every year again! A Christmas party is high on the agenda again in 2016 But the costs should stay low. Soon it will be time: Most companies all over Germany are doing it again like every year: The staff is invited to let the year come to an end.
Some companies make as a Christmas party 2016 big parties - most go to their "standard" Christmas party 2016 but only eat. So the event quickly becomes a chore, because you don't want to be "the dork who's missing", even though you really don't feel like it at all - the same thing every year.
Most companies can't and won't afford to plan a big, expensive Christmas party in 2016. It's just too expensive and the tax-free limit is now $110 per guest and anything above that ... we know the text.
We as a full service event planning company b-ceed take care of exactly that: we plan corporate events throughout the year. This includes the 2016 Christmas party on a large and small scale. We want to create experiences and do this not for a full cash register, but for the wow effect that can be created with an event for employees.
Straight with en a well-planned 2016 Christmas party, you can achieve three goals at once:
It creates identification with the company. It appreciates the employees. It is simply a "thank you" for a great or even turbulent business year. We at b-ceed have taken this topic as an opportunity to design a very special Christmas party. Christmas party Christmas party, where the topic "celebration" is written quite large. This Christmas party will take place on 16 December 2016 from 7.00 p.m. at the Swissôtel Düsseldorf and is aimed primarily at cost-oriented companies that nevertheless want to celebrate and say "thank you".
The Real Irish Christmas 2016 in Düsseldorf-Neuss is guaranteed to break boundaries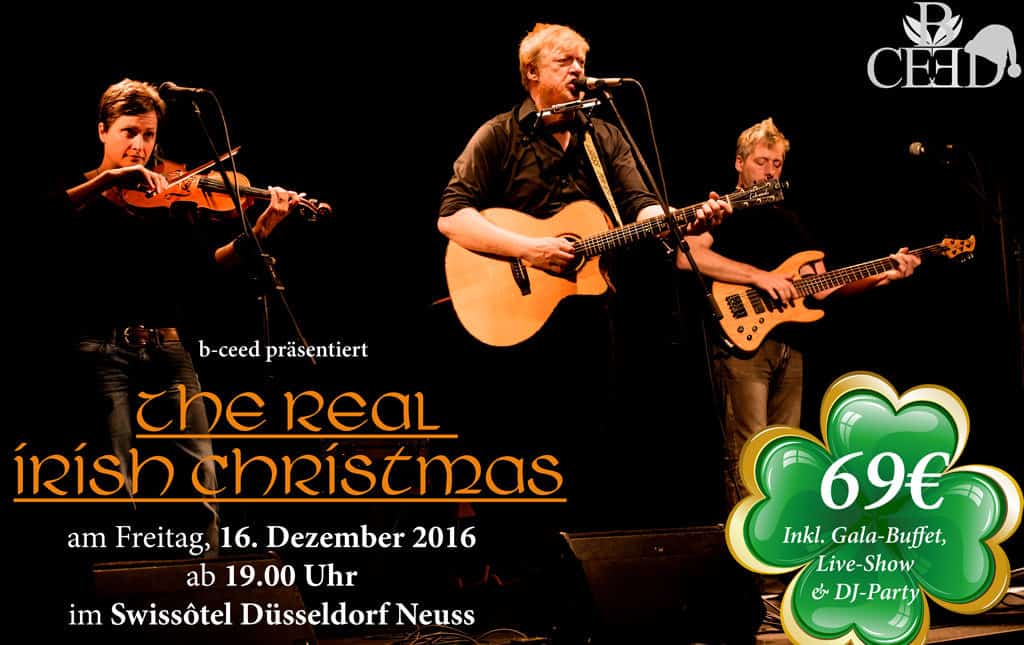 Party like the Irish, feast like the gods and party like there's no "tomorrow". Just forget about problems and challenges for one evening and come with us on a Irish Christmas 2016 in Düsseldorf of superlatives. This celebration with live entertainment, good food and a fair price structure appeals to small and large companies. Of course, private guests are also very welcome. The Irish Christmas is available in three packages and best of all, we're all within the tax exemption limit that was mentioned:
Green - 69 $ incl. VAT - incl. Live Show with Paddy Goes To Holyhead, DJ Disco Party, Buffet
VIP - 99 $ incl. VAT - Green + drinks package 5 hrs. (19-0h) with beers, wine, softs, coffee
All Inclusive - 109 $ incl. VAT - VIP + extended drinks package until 02.00 o'clock
The packages differ only in the beverage offerings, not in the quality of the seating, the view of the stage, or the offerings in general.
We are proud of this project, which really has star potential: Paddy Goes to Holyhead are without doubt one of the best, internationally known Irish Folk, Pop 'n' Rock bands.
Look forward to a superlative Christmas celebration in 2016 with Irish Christmas:
- Table reservation in the booked ticket category
- Live Show with Paddy Goes to Holyhead
- Christmas buffet with many specialities
- After Show Disco DJ Party with large dance floor
- Great selection of drinks (can also be booked as a package, see above)
Those who book their tickets for the Irish Christmas by 31 October 2016 will receive a very special gift at the table 😉 Naturally irish good!
Your team from b-ceed
P.S. If you have any questions, you can always reach us at 02251 929 330-0.