Rally in the footsteps of the German composer
Beethoven in private
Bonn - the city that once served as the federal capital and where Ludwig van Beethoven saw the light of day. In a special way, he is still alive there. What clues to his private life can still be found in the city today? What did the young Beethoven experience during his Bonn years? Embark on a rally through Bonn in the artist's footsteps and learn how he became one of the most successful German composers of his time. Look forward to the exclusive Beethoven Tour in the heart of one of the most beautiful cities on the Rhine: Bonn.
You start your company outing right where Ludwig van Beethoven was born in 1770. The composer's pink birthplace and residence has long been one of the city's landmarks. There you will discover fascinating props from times gone by and immerse yourself in the atmosphere of a building that was the home of the famous musician for so many years.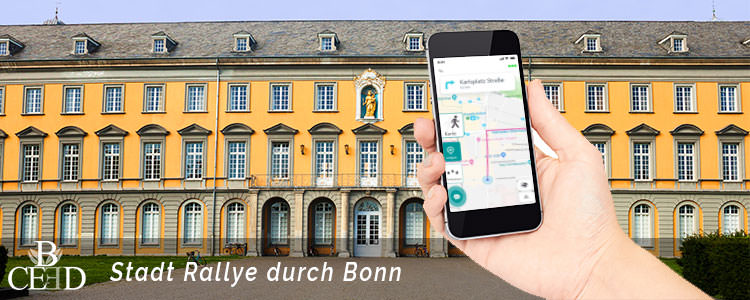 From monument to monument with Globe Chaser
There are numerous historical places in the heart of Bonn that still remind us of the artist and his works. To see all these places, the Beethoven Tour temporarily becomes a digital outdoor event. With the Globe Chaser app and your own smartphone, you go on an interactive discovery tour. With your team, you follow the composer's stops on a unique rally through Bonn and at the same time experience the attractive and tranquil Rhine metropolis from its most beautiful side.
Capture historic buildings with your camera and secure a team photo in front of the Beethoven Monument. You will become a contemporary witness not only in front of Bonn's history-steeped town hall, but also in many other authentic places. Will your team manage to find all the spots and sights together?

The Beethoven Tour belongs to Bonn
Bonn is Beethoven. You will feel this on the Beethoven Tour through the picturesque city on the Rhine. Even 250 years after his birth, the city is still shaped by the musician. Become part of the Beethoven city and experience a musical-historical company outing that is hard to beat in terms of emotions and impressions.