Summer party at the city beach
The company summer party with beach party
Summer is here and with it comes an exotic idea for your next summer party. Grab your beach hat, swim outfit and come with us to the most beautiful city beach in your region. With this beach party you will experience Hawaii feeling at German lakes with sundowner and daiquiri cocktails. We will take you out of the daily office routine and into a summer party in the style of a beach holiday.

Summer party as a recipe for distraction in the team
Let your soul dangle and enjoy the most beautiful sun hours with your colleagues in a uniquely relaxed atmosphere. The palm trees blow in the wind and the deckchairs are already in position. Here you don't need to reserve a place with your towel. The best beach feeling is also promised by our wide range of summer activities and sporting events, which can be booked optionally and as modules, in order to adapt the beach party individually to you.
Want to know more about the Beach Party?
Call us on 0800 20 66 900. This is the quickest way to get detailed advice. In addition, we can immediately consider your special wishes in a personal conversation.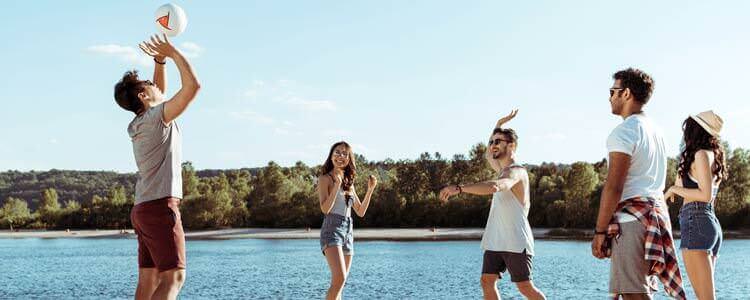 An event at the lake
In the warm summer evening we invite you to an exotic dinner. The many Caribbean-Hawaiian delicacies will send your taste buds on a holiday trip. On request we even roast whole suckling pigs over an open fire for you and serve fresh pineapple in different variations. No culinary wishes remain open at your beach party.
Special beach entertainment
The live DJ lets it rip with merengue, salsa and other international chart hits, so that this company party becomes an unforgettable summer celebration for all guests. This beach party will always be unique. And in addition, the event photographer will accompany you from the beginning with portrait shots and a documentation. So you can take your memories from reception to sundowner safely home with you. Unforgettable moments saved for eternity. On request, there are colorful flip-flops or beach hats with your company logo and motto for all participants.