Online events and online Christmas parties are booming at b-ceed!
A short review of the year and a preview of 2022
This year 2021 has been and will continue to be amazing in terms of online events with b-ceed. Our online tasting events are very popular, with which we have now set an internal mega record. More than 20,000 packages - 20,051 tasting boxes to be exact - have now left our warehouse. Our online events and online Christmas parties with tasting module are extremely popular and are now known in over 14 countries.
What makes online tasting events so popular?
The Corona Pandemic has caught us all personally and professionally. Contact restrictions and isolation have become an unwelcome part of our daily lives since 2020. Although there is now a vaccination, many of our clients are still very cautious about contacts. This is why online events have become a real hype. The popularity of online tastings comes from the fact that participants can communicate with each other and actively experience something despite being at home. With cocktail workshops and even online cooking events, we have been able to inspire an incredible number of guests this year.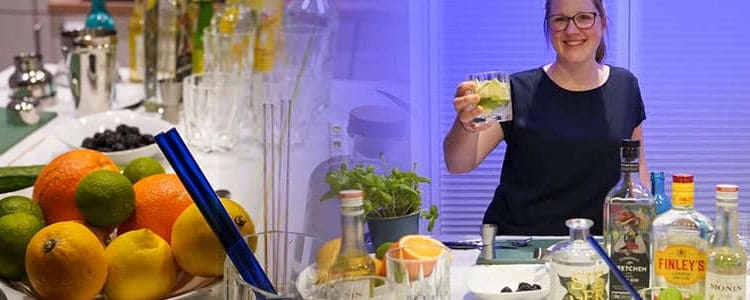 The perennial favourite: online cocktail party - also as a virtual Christmas party
For this year's virtual Christmas party, the virtual cocktail party is one of the most popular online tasting events of all. It is followed by our Gin Tasting and the Online Christmas Party Baking Class. All our tasting events include a tasting box that is sent to your home. It contains many utensils, instructions and, especially for the online cocktail party, important ingredients and spirits. This makes the online tasting haptic and tangible for every guest.

What contents do the Tasting Boxes offer?
First of all, all guests receive their personal tasting box by post to their home. We currently ship throughout Europe on the mainland and can more or less guarantee that the packages will reach all guests within a week. The cocktail parties, the online mulled wine tasting and the gin tasting contain drinks and spirits in the box. In addition, there are instructions, aroma wheels and more. At the virtual cooking, barbecue and baking events by b-ceed, all guests receive utensils for the online cooking course.

Our online tapas event is a feast for the senses. It includes delicious Spanish tapas and drinks. At the event you can choose between a tapas quiz or a mini cocktail course to enjoy. Everything is moderated live.
How does an online tasting at b-ceed work?
We welcome all guests virtually in our virtual studio - this can be done via MS Teams or via Zoom. We usually set up the sessions. Breakout sessions are also possible - these are quasi virtual group rooms for the guests. Our moderators explain to all guests what to expect and after a short time the online tasting starts. There is a lot of wit, humour and charm as well as a pinch of quiz character. At the Gin Tasting and also at our Tapas Events, we offer all guests a live quiz.

All online tastings usually last about 60 - 120 minutes. Guests can also ask many questions, which we answer live. It is not uncommon for some of the guests at our virtual cocktail parties to present the cocktails they have created themselves so that everyone can remix them.

Will online events be offered at b-ceed again in 2022?
Online team events and virtual Christmas parties have become an integral part of our event planning company b-ceed. We love our self-created and partly programmed online events. We continue to create experiences and our guests can forget the current time at least for a few hours. Even after the Corona Pandemic - we assume that at the moment - online events will still play a role. Certainly, in summer and especially then, when our guests can safely go out again, our company outing ideas and summer parties are again the means of choice. But all our events have something in common: they bring people together; in this respect, online events aim to unite people at different locations. They provide entertainment, interaction and networking. Even within corporate structures and for international multi-site companies.