It's very Christmassy here. Too early, you think? Not for an event planning company! We've been thinking about Christmas for months and planning the most wonderful Christmas parties. To mark the occasion, today we have a recipe for cinnamon stars.
Lassen Sie sich nicht vom Wort "vegan" abschrecken. Veganes Essen kann durchaus lecker sein. Und Sie werden feststellen, dass diese Zimtsterne extrem lecker sind. Das Rezept haben wir bei dem liebenswerten Blog krümelkreationen gefunden. Lassen Sie sich in weihnachtliche Stimmung bringen und backen Sie zusammen mit Ihren Liebsten oder auch mit den Kollegen. Und wenn man so richtig in Weihnachtsstimmung ist, sich auf Kerzenlicht und Gühwein freut, dann ist der beste Moment an die diesjährige Weihnachtsfeier zu denken. Haben Sie schon alles geplant? Oder sind sich die Kollegen noch nicht einig, wie dieses Jahr gefeiert wird? Dann möchte ich Ihnen gerne unsere Real Irish Christmas Party ans Herz legen am 16. Dezember in Düsseldorf-Neuss. Hier wird Ihnen alles geboten, was eine Weihnachtsfeier zum Event macht.
But now first to the recipe
You need: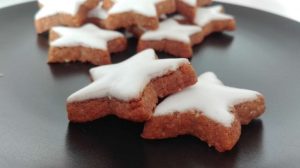 200 g icing sugar
2 tablespoons cinnamon
8 tbsp. water
1 tbsp. lemon juice
200 g ground hazelnuts
200 g ground almonds
1 tbsp grated orange peel
some flour
And for the icing:
150 g icing sugar
a little water
1 tsp cinnamon
Mix all the ingredients together, except the flour. Knead everything together carefully. Now dust your work surface generously with flour. The dough may become very sticky. In that case, just knead some more flour into the dough. Now roll out the dough and cut out small stars. Of course, you can use any other shape for your cookies. But for real cinnamon stars are best. Now bake everything in the oven at 250 °C for just 5 minutes. Watch out: The cinnamon stars will become too dry if they stay in the oven longer.
While the stars are baking, you can mix the icing. It should be nice and thick. Brush the cinnamon stars with it when they are still hot or warm. Now let the finished creations cool on a cooling rack and you can enjoy them soon!