Still relevant in 2022 - the online Christmas party. Instead of sitting together in a cosy circle, people meet online. But a virtual Christmas party can also be nice, contemplative and fun at the same time. Here are some exciting ideas for the online Christmas party 2022 that are sure to inspire you.
1. tasting events
At the latest since the Corona Pandemic, tasting events online are more popular than ever. It's not surprising, because participants can experience, create and have fun together over gin, cocktails and tapas. Although all guests work from home, tasting events increase communication and the sense of togetherness.
Cocktail workshop online

For example, you can mix cocktails online in a team. A professional bartender will introduce you to the world of bartending and mixing. A fully equipped tasting cocktail box is delivered to your home. With the tools inside, a cocktail shaker, stirrer, bar spoon and more, you can then mix professional cocktails and long drinks with the spirits supplied.
Virtual Gin Tasting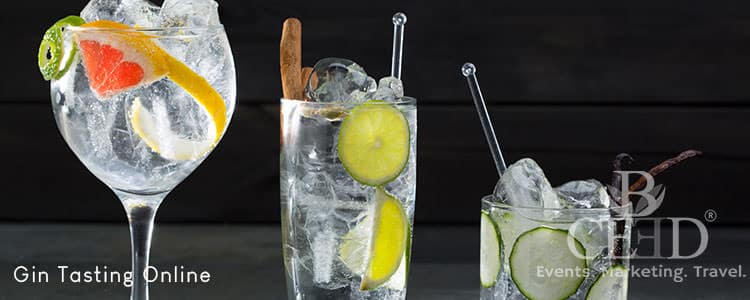 Similar to the cocktail party workshop, the online gin tasting involves tasting, talking shop and laughing. However, here you can expect a blind tasting of different and partly non-alcoholic gin types. A practical aroma wheel provides clarity. You get to taste different gins and guess what you like. If you wish, you can also enjoy small snacks and a gin quiz hosted by us. Our gin masters will guide you through the evening; optionally you can book a cocktail mix upgrade and more. As with the cocktail event, the gin box will also be delivered to your home.
Online Tapas Quiztasting
Enjoy Spanish tapas and learn more about the olé feeling of the south. Our virtual tapas quiz tasting, which is moderated live, forms a wonderful symbiosis of tasting event and team building. In addition to the tasty tapas, which you can select in advance from our large tapas menu, a tapas quiz will be held in which one or two of you will be tested on your knowledge. The online Christmas party with tapas tasting also comes with a tapas box that is delivered to your home.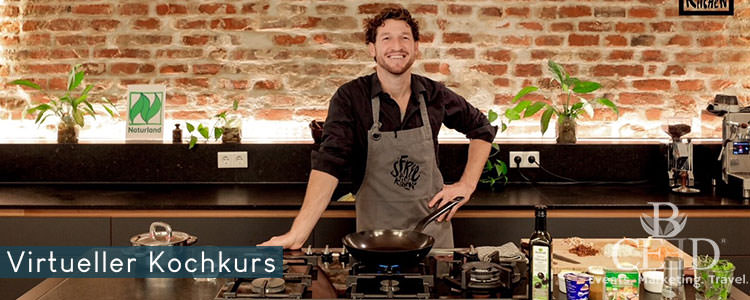 Virtual barbecue and cooking events
Team cooking and barbecue courses have been known for a long time and are also very popular with us. As we all know, the way to love and team building is through the stomach. Guests can chop, roast, cook and bake together. And who doesn't love the smell of fresh food? A glass of wine to go with it and all is right with the world. Now the popular way of celebrating Christmas goes into the next round virtually. The virtual cooking course is all about creating a delicious three-course menu together as a team from your home office. Our professional chef is live and shows you exactly what to do. The 'barbecue' counterpart is also a hot topic - both in summer and winter, the online barbecue course from b-ceed is very popular as a virtual Christmas party. The practical cooking and barbecue box with utensils and spices is sent to your home in good time. The fresh produce must then be purchased by you with the help of our shopping list. Beforehand, you choose your favourite menu from our menu.
2 Contest Games and Escape Rooms Online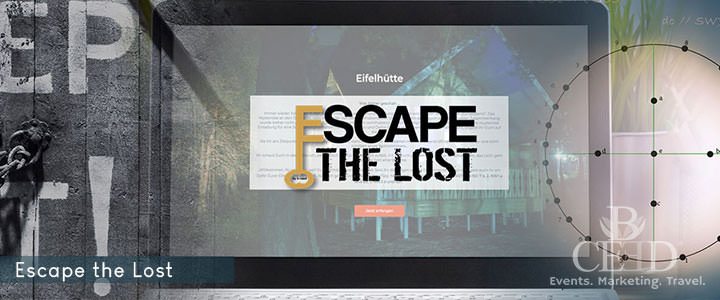 In addition to the tasting events, our most popular team events of recent years can now be booked online. Look forward to 30 - 90 minutes of fun, team spirit and puzzles! Here are our two most popular online team events:
b-ceed's Escape Saga
Our online Escape Rooms are almost legendary, and you can even play them in trilogies. Choose one or more virtual escape rooms and experience an exciting background story, gripping puzzles and guaranteed laugh-out-loud moments. The Escape the Virus and Escape the Lost trilogies tell several stories in three episodes. Each episode can be played alone in a team. Our Xmas Special as a special online Christmas party 'Escape for Christmas Online' is about a funny Christmas story that our regular customers already know from the physical events.
Crime@home(Office)
The online crime event 'Crime@home(Office)' is divided into several short episodes and puts your team in the shoes of the inspector, suspects and witnesses. Every 15 minutes, the perspective of the online crime event changes and the roles are reversed. The game is perfect to play virtually as a supporting programme for a Christmas party and, apart from pen and paper, you only need a high degree of communication skills with your team members. Because what the suspect wants to avoid at all costs is that you know his true role.