Team events are conducted virtually
The Corona crisis has created new challenges for the entire economy worldwide and affect not only our daily life, but also aspects of collaboration and team building.
Classic team events, as they have been established in companies for years, are hardly possible with the current restrictions on distance and hygiene. The motivation that was conveyed by such team events was on the line. But with the help of virtual team events, the fear of losing the classic team building was taken away. Remote events bring teams together in a new way and convey, just like the classic team events, motivation, fun and team spirit.
Remote Team Events - How Teambuilding Defies Corona
For new as well long term employees team events are an absolute highlight, because they put soft skills to the test, help people get to know each other, optimize communication and allow a welcoming break from the daily work routine that is nevertheless goal-oriented.
However, in order to stem the spread of COVID-19, many employees have been sent to the home office, and live events with the whole team are not imaginable. Regarding this, the infrastructure that is used for digital collaboration is also suitable to create online team events. Companies have the possibility to secure customized digital team events that are specifically designed for the constraints and virtual communication.
The goals remain identical: The teams learn to communicate with each other, exchange information, work more closely together, solve problems creatively and also learn new skills and of course have fun.
Did you know: b-ceed also offers team events for 5 persons or more
Virtual events directly from your home office
For companies, the corona crisis is not only a challenge economically, but also in terms of human resources. It is a matter of giving the employees security but also letting them feel closeness. Remote team events represent this connection. But how can these team events work and how important should they be in the company? Virtual team events work like a conference session in the home office - they are initiated as a digital meeting and all participants are invited to the meeting room. This works almost independent and can be arranged both with presence work in the office, but also conveniently from home.
The events are led by experienced guides or game leaders, so that the difference between physical and digital events is not noticeable. Equipped with webcam and microphone, the virtual event is ready to start. The guides lead the participants through the event and are always available for questions and comments. As you can see, remote team events are also dynamic and allow a new kind of social interaction. Due to the fact that everything takes place live at a distance, there is always room for some improvisation and input. Just because the situation is difficult does not mean that animated events become rigid frontal teaching.
There are a variety of digital team events where creative collaboration is encouraged, newly formed teams are helped to get to know each other and where the focus on simply having fun is based. Events include virtual improv theaters, creative video workshops, fun online quiz shows, and digital escape games. These digital team events can be organised and carried out quickly and easily. Companies that would also like something haptic can combine the digital with the tangible. For example, employees receive the most important items in the mail before the event and thus have puzzles or cocktail ingredients in their hands. Ideal for tangible excitement during an Escape Game or the basis for a virtual cocktail course.
Virtual team events during Corona: a factual overview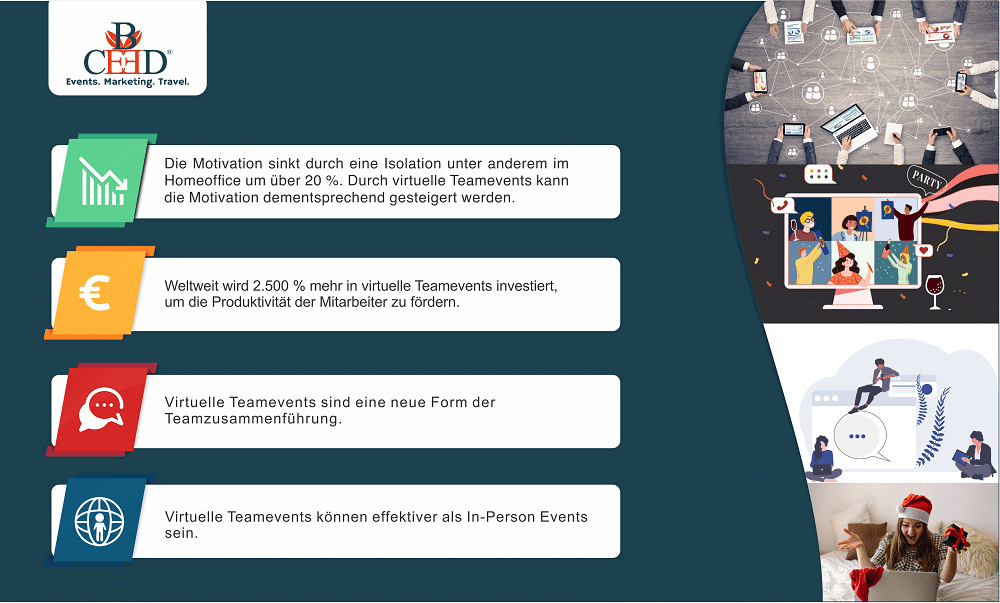 Motivation and teamwork from afar
With the loss of human closeness in the private sphere and in professional life, the psychological stresses of everyday life have grown for many people. But that doesn't mean that the prospects of better communication and professional togetherness can't defy the circumstances.
Virtual team events show that teambuilding from afar can offer companies something very special, and not just through the Corona crisis. With offerings tailored to home office and remote work, team events can continue to work across country borders and time zones.
It's a great way for companies to offer onboarding, team building and sharpening creative skills, or just a fun get-together. For teams, remote events are an opportunity for togetherness and closeness - and at a time when the importance of these words is all the more weighty.