A festive Christmas party has always been a must for most companies. Due to the pandemic, the topic of company Christmas parties became virtual last year, it was hardly possible to plan a company party at the end of the year in a Corona-compliant way and with distance. Most of us were also very unsettled and finally 95% of the Christmas parties were cancelled last year. This year, our mobile Christmas market is creating quite a buzz in terms of Christmas parties. Not only large companies with 500 or more employees want to celebrate, but also smaller companies from the SME sector.
The mobile Christmas market is already very popular
Already now in summer, several mobile Christmas markets have been booked on a binding basis, which clearly shows the trend towards being a crowd pleaser. Companies have regained the courage to express their thanks to employees with an extended celebration. However, as there are still many contact restrictions above certain incidence values, the booking desire for many motto events is still quite restrained. With a mobile Christmas market, you can combine a party and a team event in your company and also guarantee various distance and hygiene rules at the same time.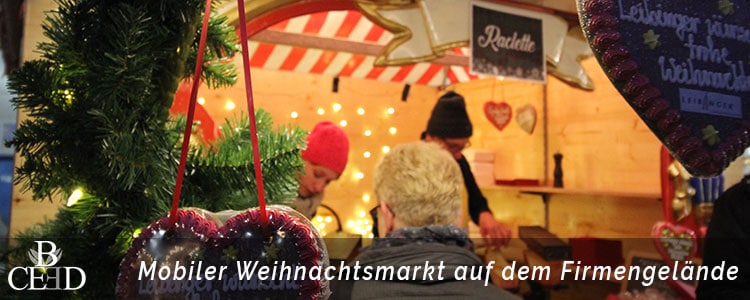 Christmas party with hygiene concept
With the mobile Christmas market on your company premises or wherever there is space for stalls and the overall event, you also get a hygiene concept from us. We have prepared the stalls so that they are spit-proof and hygiene-compliant. Everyone is probably familiar with the distance rules by now, but these are also presented again at the mobile Christmas market - markings on the floor and information boards provide a clear overview of the rules and regulations. The focus is on a wonderful Christmas party that can centrally combine the topics of safety, fun and hygiene.
Budenzauber on your company premises 2021
Roasted almonds, the smell of apple punch, mulled wine and crêpes. Grilled specialities, flaming salmon and more are available straight from the grill and board. Everything is catered for and the decorations are more beautiful than ever. The mobile Christmas market will enchant your company grounds with fresh fir greenery, Nordmann firs, thousands of lights and artificial snow. The best Christmas carols will be playing in the background and our Christmas crew will ensure a good mood, full bellies and a Christmassy atmosphere. Just pick your favourite stalls - whether fresh raclette, mushroom pans, crêpes, waffles and much, much more: it's up to you what the Budenzauber 2021 will look like.
Optional entertainment at the Christmas market
Father Christmas comes
Father Christmas comes and hands out presents at your mobile Christmas market. Whether children are present or not: adults are also happy about a visit from Father Christmas.
Walking Band
A walking band gives you the flair of a company party and is not tied to one location. The best Christmas songs, electro swing and current hits are performed by 2, 3 or 4 live musicians. Whether with beats or without: with the Walking Band you multiply the entertainment factor at the mobile Christmas market.
Gingerbread workshop for children
Building a gingerbread house is in the nature of children :). Let your children build and decorate the best gingerbread houses and hearts - in the gingerbread workshop. Our elves help the kids to choose the right ingredients and build the most beautiful gingerbread houses and gingerbread hearts with small and bigger children.
Conclusion: Popular Christmas Party 2021
The mobile Christmas market is a very popular type of Christmas party 2021. It does not necessarily have to be the virtual Christmas party. Corona-compliant, with distance and hygiene concept, our customers can hold their Christmas party with a clear conscience. Due to the popularity, the dates are also slowly becoming scarce. Therefore, it pays to be quick. The best thing to do is to send us your enquiry for the mobile Christmas market as soon as possible. We will draw up an initial concept with a calculated offer without obligation and free of charge. A free on-site appointment for planning is of course included in the booking.
We look forward to seeing you.